Welcome to the Designer Dymonz Father's Day Blog Hop! We are the design team for the Stampin' Dymonz Scrap Shack, which has 3 online locations: the Village, the Challenge Blog, and the Online Craft Magazine. The Designer Dymonz are happy to showcase for you Father's Day cards with a fun image courtesy of Tellen's Place Designs. Our blog hop starts with Stampin' Dymonz's blog and ends with Faye's blog. If you joined the hop at any point other than the first stop, please go back to the first stop and work your way through. Each DT Member is offering a chance for blog candy and we don't want you to miss out on your chances to win! Stampin' Dymonz is giving away 2 blog candy gift packs, so be sure to look for the rules on each blog in order to be entered to win. We hope you enjoy our first design team blog hop! Please be sure to leave blog love for the designers as you visit each of their blogs.
Thank you for stopping by to view my Father's Day cards for the blog hop.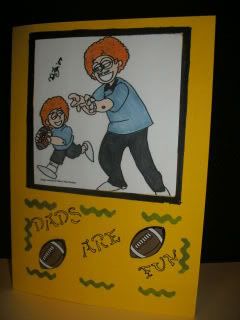 Material
Yellow Card Stock
Image from Terry O
Copic Markers - YR14, E00, B34, E08, C-1, 0 and 100
Alpha Stencils
Football Brads
Square Nestibilities
Here is my other card
Material Used
Copic markers - Y08, 0, E50, YG00, R27, BG09, 100 and B93
Green Cardstock
Chunky Alphabets
Various pattern paper
Image from Terry O
Destress Ink - Vintage Phote and Forrest Moss
Thanks again for stopping by. Please Click on Crom's link to see more creations.
Stampin' Dymonz
TerryO
Kathy -- You Are Here
Croms aka Helen
Joyce